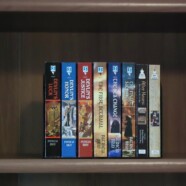 Fantasy novels by Patricia Bray include The Chronicles of Josan trilogy and The Sword of Change trilogy. With Joshua Palmatier, she is also the editor of two fantasy anthologies.
The Chronicles of Josan
The story of a scholar who is unwillingly swept into international intrigue and discovers his soul is, perhaps literally, not his own.
The First Betrayal

Orphan, exile, priest, Josan lives a humble life as a lighthouse keeper, his past forgotten by everyone–including himself. Lady Ysobel Flordelis of Alcina is a spy posing as a diplomat, sent to Ikaria to stir up rebellion, when a chance encounter with Josan sets off a deadly chain of events. Now, as Ysobel navigates the treacherous intrigues of the Ikarian court, Josan will be forced to leave his island exile and embark on a dangerous journey to unlock the secrets of his past. The question is, who can he trust, when he can't even trust himself?

ISBN 9780553588767

The Sea Change

When the imperial family is assassinated, few are pleased at the transformation of Prince Lucius from condemned prisoner to Emperor of Ikaria. As he fights to secure his throne he also wages a deadly battle within himself–as the two souls trapped in his body vie for supremacy. Meanwhile, his nemesis Lady Ysobel has returned home in disgrace, where her former allies seek to rid themselves of her. When war is declared, she is sent on a mission meant to ensure her death–now she must fight not just for survival, but to shape the future of both countries.

ISBN 9780553588774

The Final Sacrifice

Emperor Lucius has led his people to victory, but is losing a private war within himself, as the spell which bound his soul to that of the monk Josan is now unraveling, threatening to destroy them both. Their only hope lies in the forbidden magic teachings of a distant land. Reluctantly abandoning his empire, Lucius secretly embarks upon a desperate journey, pursued by his former enemy Lady Ysobel of Seddon. But when a new war threatens all that he has fought for, he must choose between his own salvation or learning to wield the very magic that will destroy him.

ISBN 9780553588781
The Sword of Change Series
The story of Devlin of Duncaer is the classic story of a stranger in a strange land, the outsider who has nothing to lose, and thus finds himself at the center of events that will transform the world he lives in.
Devlin's Luck Winner of the 2003 Compton Crook award

Devlin, a foreign metalsmith with a mysterious past, arrives in the Kingdom of Jorsk. To everyone's surprise, he wins the post of Chosen One, defender of the realm. Devlin proves himself a true hero by defeating both human enemies and magical creatures, but it is the task of uncovering a traitor within the King's court that proves the greatest challenge of all.

ISBN 9780553584752

Devlin's Honor

The courtiers soon forget Devlin's heroism, and before long he finds his position in court undermined by those who say that only one who wields the Sword of Light can be the true Chosen One. It is an impossible condition, for the mystical sword had been lost forty years earlier. As Devlin returns to his homeland in search of the sword, he must also confront his past. Devlin finds the sword, but before he can return to Jorsk he must quell an uprising by his own people, and confront a magician intent on destroying him.

ISBN 9780553584769

Devlin's Justice

War comes to Jorsk, but in this hour of peril the Chosen One is nowhere to be found. His friends fear that he has been murdered, but the truth is even more chilling, for Devlin was betrayed and handed over to his enemies. Seemingly abandoned by those he trusted, Devlin must find a way to escape from his captor — an evil mind-sorcerer intent on unlocking the power of the Geas spell. Devlin's freedom comes at a terrible cost, and now he must choose between his desire for vengeance, and his duty to the people of Jorsk.

ISBN 9780553584776
Anthologies
After Hours: Tales from the Ur-Bar edited by Joshua Palmatier and Patricia Bray

The first bar, created by the Sumerians after they were given the gift of beer by the gods, was known as the Ur-Bar. Although it has since been destroyed, its spirit lives on–in each age there is one bar that captures the essence of the original Ur-Bar, where drinks are mixed with magic and served with a dash of intrigue. Heroes, villains, poets and thieves may be found within its walls; when the gods visit Earth they stop by the Ur-Bar for a drink.Featuring stories by Anton Strout, Avery Shade, Barbara Ashford, Benjamin Tate, D.B. Jackson, Ian Tregillis, Jackie Kessler, Jennifer Dunne, Juliet E. McKenna, Kari Sperring, Laura Anne Gilman, Maria V. Snyder, Patricia Bray, S.C. Butler and Seanan McGuire.

ISBN 9780756406592

The Modern Fae's Guide to Surviving Humanity edited by Joshua Palmatier and Patricia Bray

The fae are among us, adapting to survive among the hordes of humanity that now plague the modern world. In THE MODERN FAE'S GUIDE TO SURVIVING HUMANITY, fourteen authors explore how the fae have integrated themselves into our society. From the aisles of your local shopping center, to Wall Street, to the darkest part of Central Park, the fae have cast their glamour over every aspect of our world. Join us as we lift the veil of faerie and reveal the magical pockets that exist on our very doorstep.Featuring stories by Seanan McGuire, Susan Jett, Kari Sperring, Juliet E. McKenna, Avery Shade, Kristine Smith, Barbara Ashford, April Steenburgh, Anton Strout, S.C. Butler, Jean Marie Ward, Shannon Page & Jay Lake, Elizabeth Bear and Jim Hines.

ISBN 9780756407193