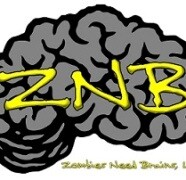 CLOCKWORK UNIVERSE: STEAMPUNK vs ALIENS was phenomenally successful, raising over 150% of its goal.  Thanks to the authors who agreed to be part of this project and everyone who pledged their support.  CLOCKWORK UNIVERSE will be the first title released by the new small press Zombies Need Brains (http://www.zombiesneedsbrains.com) which was founded by Joshua Palmatier.  I'm co-editing the anthology and looking forward to reading the wonderful stories that it inspired.
I'm also looking forward to ZNB t-shirts featuring the slogan of the new press– HUMANS NEED BOOKS LIKE ZOMBIES NEED BRAINS.  Because really, what more needs to be said?
Look for CLOCKWORK UNIVERSE: STEAMPUNK vs ALIENS to be available in May 2014.